We all remember Oreo's infamous blackout tweet during the 2013 Super Bowl. I mean, who could forget such a clever live tweet that received over 15,000 retweets in several minutes?  It is by far one of my favorite tweeted advertisements ever…and that is not just because I love Oreos!
However, Oreo's tweet demonstrated to many that the world of advertisement is changing.  Advertising is molding itself along side social media and using sites such as Twitter and Facebook to grab the attention of individuals quickly and at no cost.
A prime example of this would be the recent "Oscar tweet" by Ellen DeGeneres during the 2014 Oscars.  The tweet contained a selfie taken by Bradley Cooper.  The selfie included Ellen, Jennifer Lawrence, Meryl Streep, Brad Pitt, Angelina Jolie, Lupita Nyong, Kevin Spacey, Julia Roberts, Channing Tatum, and Jared Leto.  Quite a celebrity photo, huh?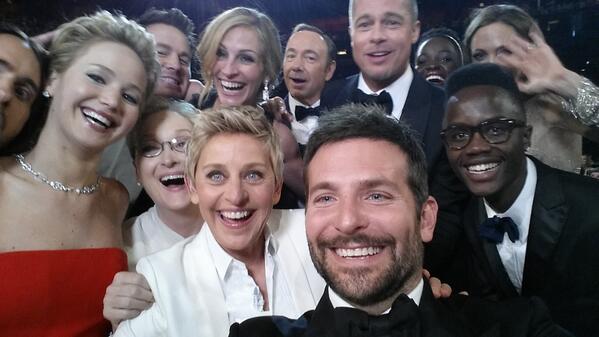 The tweet received over 3,380,996 retweets and 1,941,138 favorites in one night! Samsung, a big Oscar advertiser, provided Ellen with a Samsung Note 3 which she used to take the selfie.  Ellen had been live tweeting from the phone throughout the night.
In an article provided by Ad Age, "Samsung stated they bought five-and-a-half minutes of airtime on the Oscars — a hefty expense to win attention on one of the country's premiere advertising events. Yet what got everyone buzzing the next day wasn't one of its lavishly produced commercials, but the single photo on Twitter from Ellen."
My journalism peer, Taylor, also recently wrote a blog post about the famous tweet and discussed the new tactic of product placement.  Taylor explained that advertising is changing in a new direction where advertising companies are focusing on letting their consumers use the products to sell the products.  Taylor believed that Samsung let Ellen use their phone during the Oscars for advertisement.  Essentially Ellen was selling the product to millions of viewers, while using the phone for her own enjoyment.  As Taylor stated, "…more of the message should be about the user because they are the ones who actually purchase from the advertising."
Although I completely agree with Taylor about this tactic of advertising…I also believe advertising is changing towards the direction of social media.  As I stated above, advertising is molding itself along side social media and using sites such as Twitter and Facebook to grab the attention of individuals quickly and at no cost.
In other words, advertisement companies understand the importance of social media sites to vamp their products.  In a matter of seconds, one tweet could be seen by thousands of individuals with a single press of a button.  In the age of social media, advertisement companies are using these sites to their advantage.  Social media requires little work, no cost, and is guaranteed to be successful.  By using social media site to advertise, advertisement companies can focus more time on important campaigns and promotions.
For example, here is a cool diagram I found detailing the anatomy growth of Ellen's tweet.  Every time Ellen tweeted from the Samsung phone, each tweet was detailed with the words "Twitter for Android."  Instantly, millions of people retweeted and favorited Ellen's tweet that ultimately promoted Samsung's phone. However, Samsung did not have to do anything! They sat back and watched, while reaping the benefits of social media.
The award-winning "Oscar tweet" is just one of many examples that represents a new direction of advertisement….one that works parallel with social media sites such as Twitter and Facebook.  It is a smart tactic, yet another portrayal of how social media is consuming our everyday lives.  Ohh, gotta love them retweets!
And just to mix things up…I thought I would provide a picture taken from behind the stars as the posed for the famous selfie.  Say "cheese" guys!